Season Record 11 / 3
Steel Valley Conference
Div. V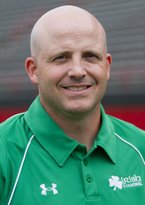 A team that was already facing a lot of holes on defense absorbed a huge blow this summer when All-America DL/LB Jamel Turner, an Ohio State recruit, was declared ineligible before his senior season started. The Irish, fresh off the Division V state title, have just three returning starters from a defense that was the strength of the team that past two years. The good news is, six offensive starters return, including senior workhorse RB Allen Jones (1,200 yards rushing, 17 TDs) and breakout junior Akise Teague, who came on strong in the postseason last year. The Irish also return both quarterbacks in senior Dawalyn Harper (the running threat) and junior Paul Kempe (throwing). Ursuline has 79 players in 9-12 on its roster so depth and talent shouldn't be a problem. The main challenge for Reardon & Co. is developing the younger players and surviving an unforgiving schedule. After two straight state final appearances, everyone will have Ursuline circled on its calendar this fall.
2009 Ursuline Stats
Passing yards per game:
0.0127226463104
Season offensive yards:
3617
Rushing yards per game:
0.00615258408532
Season Defensive Yards
2419
League
Steel Valley Conference