Season Record 15 / 0
Steel Valley Conference
Div. V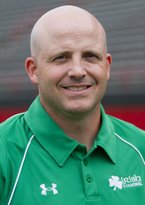 The Irish graduated four all-state players from last year's state runner-up team, but have the talent to make another deep playoff run — provided they can navigate a challenging regular season schedule. The biggest loss was QB Lamar McQueen and Ursuline has a three-way fight for the position between senior Jimmy Mszanski (who saw time at the position two years ago), junior Dawalyn Harper and sophomore Paul Kempe. RBs Darrell Mason (1,200 yards, 21 TDs) and Allen Jones (800 yards, 14 TDs) return, as does dynamic receiver Dale Peterman. Defensively, All-Ohio end Jamel Turner, who was unblockable as a sophomore, should be even better this fall. In all, 25 lettermen return, including six starters on each side of the ball. There are some holes to fill up front, but there's definitely reason for optimism on the North Side.
2008 Ursuline Stats
Passing yards per game:
0.021186440678
Season offensive yards:
2869
Rushing yards per game:
0.00694123091161
Season Defensive Yards
1648
League
Steel Valley Conference