Season Record 3 / 6
Northeastern Athletic Conference
Div. VI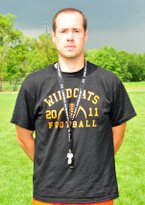 PLAYOFF HISTORY: 1 year, 0-1. Last appearance, 2001.

OUTLOOK: New coach Ryan Slone takes over after serving as Windham's mentor in 2010. He led the Bombers to just two wins, but that was two more than Southington could amass. The Wildcats were outscored by almost 40 points per game, so defense will be an important issue in practice. Kyle Reynolds has the inside track at QB, while Hunter Romigh and J.C. Comella have emerged at RB. Robert Ruschak and Hunter McKenney anchor the lines.

COACHING STAFF: Ryan Slone, head coach (1st season, 2-8 overall). Assistants: Information not provided.

2011 Southington Stats
Passing yards per game:
0.0156794425087
Season offensive yards:
1682
Rushing yards per game:
0.00812274368231
Season Defensive Yards
2411
League
Northeastern Athletic Conference