Season Record 10 / 1
Inter Tri-County League (Tier Two)
Div. VI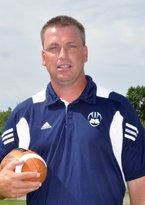 It's probably unrealistic to expect the Blue Devils to repeat last year's success, when they rolled through their schedule with a dynamic run-first offense that scored more than 40 points in seven regular season games en route to a 11-1 record and another league crown. Gone are first-team All-Ohioan Alex Sampson (1,200 yards rushing), Mike Thomas (800 yards rushing, leading tackler) and three-year starter Anthony Colla (the team's best lineman). But RB Nick Cupan, a 900-yard rusher, will join QB Nicola Accordino and TE David John in forming the core of an offense that returns five starters. Defensively, McDonald also returns five starters and had plenty of competition in camp for the openings. McDonald has great numbers (65 on the roster, including 19 seniors) and seems to reload every year. The Blue Devils should again be among the favorites for a league title and a playoff berth.
2009 McDonald Stats
Passing yards per game:
0.0109235352532
Season offensive yards:
3728
Rushing yards per game:
0.00438072481083
Season Defensive Yards
1281
League
Inter Tri-County League (Tier Two)