Season Record 11 / 1
Inter Tri-County League (Tier Two)
Div. VI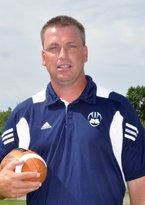 The Blue Devils return 14 lettermen and 15 starters (seven on offense, eight on defense) from last year's playoff team, so there's reason for optimism. McDonald has 57 players on the team — terrific for a Division VI program — and there's good team speed. Fullback Alex Sampson is most experienced offensive skill player returning. He rushed for more than 1,000 yards last season. Two-year letterwinners Corey Lunn, Devon Colburn and Mike Thomas will help key the Blue Devils' spread, while junior Nick Accordino will try to replace three-year starter Matt Krumpak. Defensively, senior Mike Thomas and Sampson finished 1-2 in tackles. McDonald should compete for the league crown and a playoff berth.
2008 McDonald Stats
Passing yards per game:
0.0224719101124
Season offensive yards:
4088
Rushing yards per game:
0.00337647720878
Season Defensive Yards
2528
League
Inter Tri-County League (Tier Two)