Season Record 10 / 2
All-American Conference White Tier
Div. III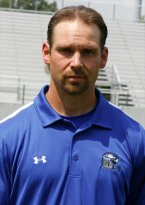 Hubbard enters this season as the favorites on paper to win the AAC's White Tier, with a pair of dynamic playmakers in seniors Andre Givens (1,433 yards, 17 TDs in 2008) and Kurtis Drummond (30 receptions). Both are major Division I prospects. Add in an experienced QB in Matt Shelton, who threw for 1,000 yards and 12 TDs last year, and some emerging talent and the Eagles are set at the skill positions. There are more questions up front, where just one offensive lineman returns. Although only five starters return on defense, the Eagles return quite a few players that saw action in 2008. Linebacker Tim Schiraldi, a two-year letterwinner, has been a tackling machine the past two years and there are good athletes throughout the depth chart. After going 9-3 last season and earning a berth in the postseason, Hubbard seems ready for another strong year.
2009 Hubbard Stats
Passing yards per game:
0.00809170600135
Season offensive yards:
3048
Rushing yards per game:
0.00819112627986
Season Defensive Yards
1754
League
All-American Conference White Tier