Season Record 8 / 3
All-American Conference National Division
Div. II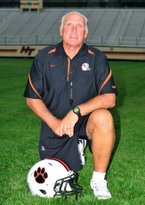 PLAYOFF HISTORY: 8 years, 6-9. Last appearance, 2011.

OUTLOOK: The Tigers' goal for 2012 is the same as always: go undefeated. They enter the season with a 22-game regular season winning streak. The playoffs are again within reach, a win would be their first since 2009. Michigan-bound RB De'Veon Smith is one of the most explosive players in the area. In three years as the starter, he has 4,868 rushing yards. WR Brendan Cope is a deep-ball threat.

COACHING STAFF: Dick Angle, head coach (15th season overall, 254-165-3). Assistants: Dominic Menendez, Tony DelBoccio, Angelo Ciminero, Mike Tricome, Jordan Simmons, Jon Elliot, Eric Jones, Scott Thompson,
Dennis Killiany, Frank Briceland.
Team Roster 2012
Name (letters)
#
Pos.
Year
H / W
Full roster coming soon.
2012 Howland Stats
League
All-American Conference National Division