Season Record 10 / 2
All-American Conference Red Tier
Div. II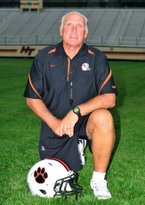 After two straight league titles, and two straight playoff appearances, the Tigers return 23 letterwinners and will benefit from a schedule that includes seven home games. Howland won't be as big as some past seasons but return a lot of speed and strength. Senior running back Mike Mangiarelli, who has rushed for more than 1,000 yards the past two seasons, and senior QB Matt Preston, a four-year starter, lead a talented group of skill position players. With just one returning starter on the line, Anthony Stanko, there are some question marks up front. Defensively, the Tigers return five starters, including two on the defensive line. Last year's 7-4 record was a bit of a disappointment, and the Tigers head into the fall with a lot of potential and nowhere near the burden of expectations they faced last season.
2009 Howland Stats
Passing yards per game:
0.0230326295585
Season offensive yards:
2865
Rushing yards per game:
0.00511945392491
Season Defensive Yards
1377
League
All-American Conference Red Tier