Season Record 11 / 1
All-American Conference Blue Tier
Div. IV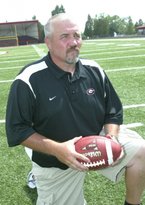 No one person can replace RB Kyle Stadelmyer, who finished his career with 4,200 yards rushing and 73 TDs before heading to YSU, but the Indians return a lot of talent from last year's 9-1 team. Girard has good team speed, led by junior Landon Smith, who had a breakout year at wideout last season. The Indians also return two quarterbacks: senior Adam Charles (who missed last season with a knee injury) and shifty sophomore Dan Graziano, who played like a veteran after being thrust in the starting lineup. The offensive line should be strong, as long as the Indians stay healthy. There is experience everywhere on defense, particularly on the line and at linebacker. On paper, the Indians look like the favorites in the Blue Division.
2009 Girard Stats
Passing yards per game:
0.00580832526621
Season offensive yards:
2780
Rushing yards per game:
0.00816882232811
Season Defensive Yards
2070
League
All-American Conference Blue Tier