Click here to view the roster
Inter Tri-County League (Tier One)
Div. V
Season Record 2 / 8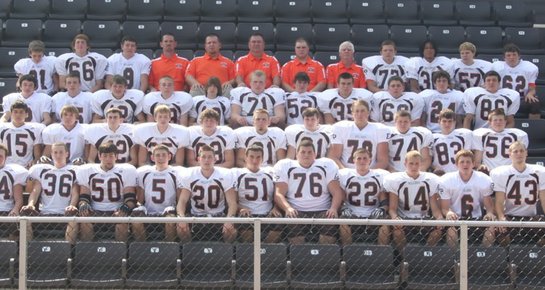 Team Roster 2011
Name (letters)
#
Pos.
Year
H / W
COACHING STAFF: Gare Mattes, head coach (2nd year, 3-7; 109-94-4 overall). Assistants: Drew Rankin, Andrew Sarachman, Ryan McCullough, Dan Kibler.

PLAYOFF HISTORY: 2 years, 1-2. Last appearance, 2009.

OUTLOOK: Year 2 of Gare Mattes' tenure as head coach finds the Bulldogs having to replace six key players, including QB/DB Mike Salyers. Eight starters return, however, led by RB Derek Smith and a veteran OL of Drew Weigle, Chris Tancer, Jared Knopp and Jacob Knopp, and TE Austen Reiser. Strength at LB, including Jared Knopp, has induced the Bulldogs to go with a new defensive alignment.

360 W. Grant St. East Palestine, OH
2011 East Palestine Stats
Passing yards per game:
0.00868055555556
Season offensive yards:
2796
Rushing yards per game:
0.00593824228029
Season Defensive Yards
3421
League
Inter Tri-County League (Tier One)
Latest East Palestine fans