Season Record 10 / 2
Inter Tri-County League (Tier One)
Div. V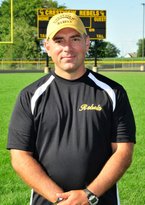 Graduation took a big bite out of Crestview's offense, with 2,000-yard rusher Corey Hill and 500-yard receiver Jakob Leon both gone. But junior QB Carter Hill, who threw for nearly 1,000 yards and ran for nearly 800 more, is back and the Rebels have a good group of backs ready to take over. Overall, nine lettermen return on offense, including six starters. Defensively, the Rebels have nine starters and 14 lettermen returning - Leon, who led the area in interceptions, and leading tackler Nick Robinson are the biggest losses - and their strength will be in the front seven. DB Adam Britton, who was second in the team with 88 tackles, will anchor the secondary. There's no reason to think the Rebels won't be in the mix for the league title and a playoff berth.
2009 Crestview Stats
Passing yards per game:
0.0100083402836
Season offensive yards:
4142
Rushing yards per game:
0.00406641816333
Season Defensive Yards
2621
League
Inter Tri-County League (Tier One)
Latest Crestview videos

» more