Season Record 10 / 2
All-American Conference Red Tier
Div. II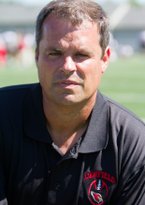 Canfield's season got off the wrong foot last fall when its best player, running back Dan Banna, suffered a season-ending knee injury. But the Cardinals regrouped to earn a share of the Red Tier title but saw their postseason streak snapped at four years. With 74 players on the roster in 10-12, the Cardinals should have another strong team this fall. The backfield is set with returnees Kyle Vaclav, Jon Rogers and Blake Jackson but there are a lot of question marks up front on both sides of the ball. Nick Reinthaler returns on the offensive line and Garrett Zuzik returns on the DL, but the Cardinals need to replace both wide receivers and all three linebackers. Kicker Billy Fisher returns and should be among the area's best.
2009 Canfield Stats
Passing yards per game:
0.0188976377953
Season offensive yards:
1983
Rushing yards per game:
0.00890207715134
Season Defensive Yards
1480
League
All-American Conference Red Tier