Season Record 6 / 4
All-American Conference American Division
Div. V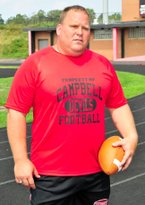 PLAYOFF HISTORY: 8 years, 7-8. Last appearance, 2010.

OUTLOOK: A season-finale upset loss to Struthers prevented the Red Devils from making the playoffs for a third consecutive year. They lost 15 seniors, but return QB Brandon Reyes, who is a two-way threat. A veteran corps of wide receivers should provide high-impact plays. Despite losing the flashy Ja'les Hughes, Campbell won't fade far away in 2012.

COACHING STAFF: Mickey Sikora, head coach (3rd season, 17-11). Assistants: Steve Hunt, Ron DeJulio, Gary Zetts, Rick Gozur, John Bayuk, Tom Senich, Brian Nichols, Tom Carney, Mike Maietta.
2012 Campbell Memorial Stats
League
All-American Conference American Division
Latest Campbell Memorial fans