Season Record 4 / 6
Federal League
Div. I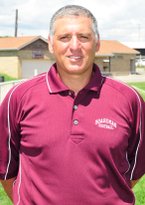 PLAYOFF HISTORY: 8 years, 7-8. Last appearance, 2011.

OUTLOOK: If Mark D'Eramo's second season as Spartans coach is anything like his first, there will be a lot of smiling faces in Boardman. He'll need a replacement for Devin Campbell, but he'll have options with Nathan Jones and Ivan Adu-Poku. John and Justin Babos anchor the defense.

COACHING STAFF: Mark D'Eramo, head coach (2nd season, 7-4). Assistants: Mike Popio, Joe Cleghorn, Joe Ignazio, Pat Birch, Tom Zetts, Roger Patterson, Jeff McIlhinney, Doug Velasquez, Nick Savage.

Team Roster 2012
Name (letters)
#
Pos.
Year
H / W
Full roster coming soon.