---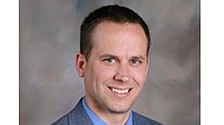 The five-year financial forecast will be updated
The library is one of thousands around the world.
Before he rolled out of bed, Baker Mayfield had a premonition of ne...
Featured News
Agreement calls for Vienna hunting preserve to be gone early next year
---
The employees will be out of a job, effective Dec. 31, but the district will continue to pay their health insurance through June 30.
Before Northside's closure, St. Elizabeth's could rely on the Gypsy Lane facility in instances of heavy emergency room traffic.