---
Autumn Johnson, left, of Girard, and Debby Hornyak of Liberty scan ...
Girard will play in a state semifinal for the first time.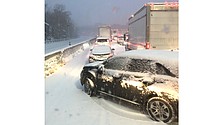 The Youngstown State men's basketball team got stuck in one of New ...
Featured News
Whether for health or lifestyle, there are many meatless options available for the holiday main course
---
In the end, four playoff appearances in seven seasons as head football coach and three state championships during his decade and a half association with...
During a July 25, 2017, rally in Youngstown, President Donald Trump made a promise to the crowd gathered at the Covelli Centre: "Those jobs [that] have left Ohio, they're coming back."